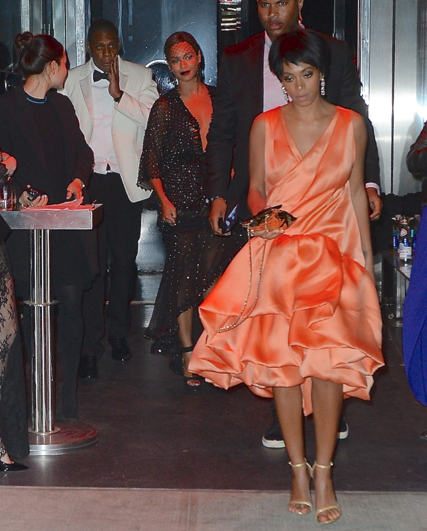 Does anybody have any clue what is going on here!?
The world seems almost to be in meltdown with the leaking of footage- from an elevator camera- of
Solange Knowles
going in on
Jay Z
. If that wasn't bizarre enough, this is all going down WHILE
Beyonce
is standing, apparently, unbothered by the kung fu showdown occurring before her eyes.
The pictures above, showing the trio exiting the venue where the fight just occurred, is also very telling. Though Bey is kind of managing to mask the craziness of what just transpired with an odd smile, Solange does no such thing, looking distinctly unimpressed. Jay Z, on the other hand, looks to be suffering from PTSD, not quite believing what happened.
This is almost too surreal! I haven't watched the footage, myself- since it's from the disgusting TMZ- but you guys feel free to.
Update 15th May: A statement has been released by the family and, as imagined, it doesn't reveal much about anything.
"As a result of the public release of the elevator security footage from Monday, May 5th, there has been a great deal of speculation about what triggered the unfortunate incident. But the most important thing is that our family has worked through it. Jay and Solange each assume their share of responsibility for what has occurred. They both acknowledge their role in this private matter that has played out in the public. They both have apologized to each other and we have moved forward as a united family.
"The reports of Solange being intoxicated or displaying erratic behavior throughout that evening are simply false. At the end of the day families have problems and we're no different. We love each other and above all we are family. We've put this behind us and hope everyone else will do the same."
I guess we'll have to wait until the tell all biography to learn the truth. That, or wait till Solo goes renegade! Please go renegade!!
Thoughts?