Lady Marmalade
was a smash hit for
LaBelle
in 1975 and featured the scandalously suggestive chorus of "Voulez-vous coucher avec moi (ce soir)?". At the time of release,
Patti Labelle
-who handled the lead- claimed she never really understood the français, saying: "I didn't know what it was about. Nobody, I swear this is God's truth, nobody told me what I'd just sung a song about."
Since then though, nobody can feign this level ignorance with the phrase becoming one of the most well known in the French language (yes, I'm being hyperbolic!). And it's been kept alive in the minds of new generations by the multitude of covers it has enjoyed since it was first recorded by
Eleventh Hour
.
So, with that little round-up out the way-
LET THE DIVAS DUEL!
Sabrina:
I only have one thing to say about this
Sabrina
chick: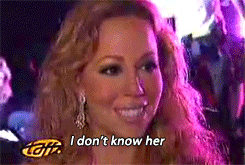 Despite that, I actually love that her accent shines through on the vocal. That and the sprightly production has this version sounding more fun (and kitsch) than the others. Sure, she totally skips the big "MOREEEEEEEEEEEEEE", but I still like it! Now all I need is Piña colada and this would be heaven!
All Saints:
UK girl group
All Saints
recorded this cover back in the '90s, and I'd shamefully forgotten about its very existence until I wiki-ed the song for this post. Even though I've slept on this version, it was one that I played extensively- I'd say more so than the bigger Christina remake- at the time.
With its sweet harmonies and London sound, this take was less vocally showey than any of the others, relying on their attitude to make it work. Surprisingly this might still be my favourite version - after Labelle, of course.
Christina Aguilera, Lil' Kim, Mýa and Pink:
This is the version MOST people know. With an A-list line-up of Divas, the
Missy Elliott
/
Rockwilder
produced rendition was created for the film
Moulin Rouge
. Though containing a strong vocal from all the ladies, it was left to Ms.
Christina Aguilera
to handle all the big notes.
Still, I personally prefer
P!nk
's vocal best. So much rasp, but so healthy sounding and controlled. I should also add I never liked the uninspired and lifeless production.
Patti LaBelle Cyndi Lauper and Jessica Simpson:
This shouldn't be included- since Patti is actually in this version- but I couldn't not not (triple negative equals a positive, right?) mention this, what with the way
Cyndi Lauper
or
Jessica Simpson
(not sure which) handled the the climatic last note. SLAY!!
Leona Lewis:
The Diva never recorded a studio version, but she did sing one during her time on the
X-Factor
. It wasn't the most exciting of renditions, and there were lyrical changes in the chorus to make it even more bland. However, she did throw in an original head voice run, so yay. She also attempted a Patti-esque slide at the end...but no. Didn't work.
Sheila E:
A totally funkified rendition. Easy and relaxed, where the instrumentation gets just as much (if not more) shine than the Diva's own vocal. Was feeling the vibe on this.
Celine Dion And
Nanette Workman:
I'm not even sure what to say about this, other than Celine was killing those notes!
Patti Labelle and Ariana Grande:
Another one Patti snuck into. Though this version is loose and slightly sloppy, it does show a level of musicality from Ariana that I've not seen before. That alone is worth its feature. Not to mention, those top notes are effortless.
But who did you think did Lady Marmalade best? Vote and Comment below!